"I started Mike Holmes Inspections 10 years ago because I wanted homeowners to see the real value of home inspections done to the highest standards by a team of expertly trained and certified professionals. If you want to Buy It Right, Sell It Right or Own It Right, you need reliable and trusted information to guide you during (likely) the largest purchase decisions of your life. Together, we can Make it Right!"
Mike Holmes, TV Host & Professional Contractor
LIMITED AVAILABLE TERRITORIES REMAINING
Real Estate Agents available in Your Area
The Realty Firm Inc. Brokerage
Sage executive group real estate
Sutton Group Select Realty Inc. Brokerage
Street City Realty Inc. Brokerage
London
,
Southwest Ontario
Re/Max Affiliates Realty Ltd
RE/MAX Hallmark Realty Group
RE/MAX AFFILIATES REALTY LTD.
Royal LePage Wolle Realty
Century 21 Synergy Realty Inc.
Chelsea L Real Estate Team
Century 21 Synergy Realty Inc.
Keller Williams Integrity Realty
Sutton Group Select Realty Inc. Brokerage
CENTURY 21 Colonial Realty Inc.
The Mike Holmes Difference
When you schedule a home inspection with Mike Holmes Inspections, you get a certified and trained professional conducting a thorough visual examination and assessment to ensure your current or future home is built right. Every inspection goes beyond the industry standard and uses premium equipment and specialized training so that what the inspector sees, you see. The result? PEACE OF MIND.
A Mike Holmes Inspector is:
Fully trained and industry certified by Mike Holmes Inspections and third party accredited courses
A Certified Thermographer
Responsive, able and willing to answer your questions and on time
Experienced and knowledgeable
An excellent customer service provider with a smile knowing they help homeowners every day!
Inspection Packages and Services
Specialty and add on services
Breathe Easy with Specialty or Add-on services that can be added to your Mike Holmes Inspection package, including screening for radon gas, testing for mold, or Indoor Air Quality readings for your family health & peace of mind.
Not all Specialty & Add-on services are available in all areas, please contact us at 1-888-563-5699 for more information.
Booking your inspections is as easy as…1, 2, and 3
2. Review &
Recommendations
Our agents will review your
request and recommend a service that best meets your needs.
3. Schedule, Pay
& Confirm
Quickly, we'll schedule a
time that works for you and
send a digital contract.
When payment is received, the booking is confirmed
CHECK AVAILABILITY IN YOUR AREA
What's included in my home inspection?
With Mike Holmes Inspections you can expect a thorough assessment of total home health and performance that guides you to buy better, sell better or improve better. Our checklist includes a visual roof inspection, a complete interior finish assessment, HVAC review (heating, cooling, and ventilation), electrical inspection, plumbing inspection, and a structural review from foundation to roofline. A Mike Holmes Inspection report, delivered within 48 hours, will provide you with a comprehensive document to make an informed decision on your existing or future home.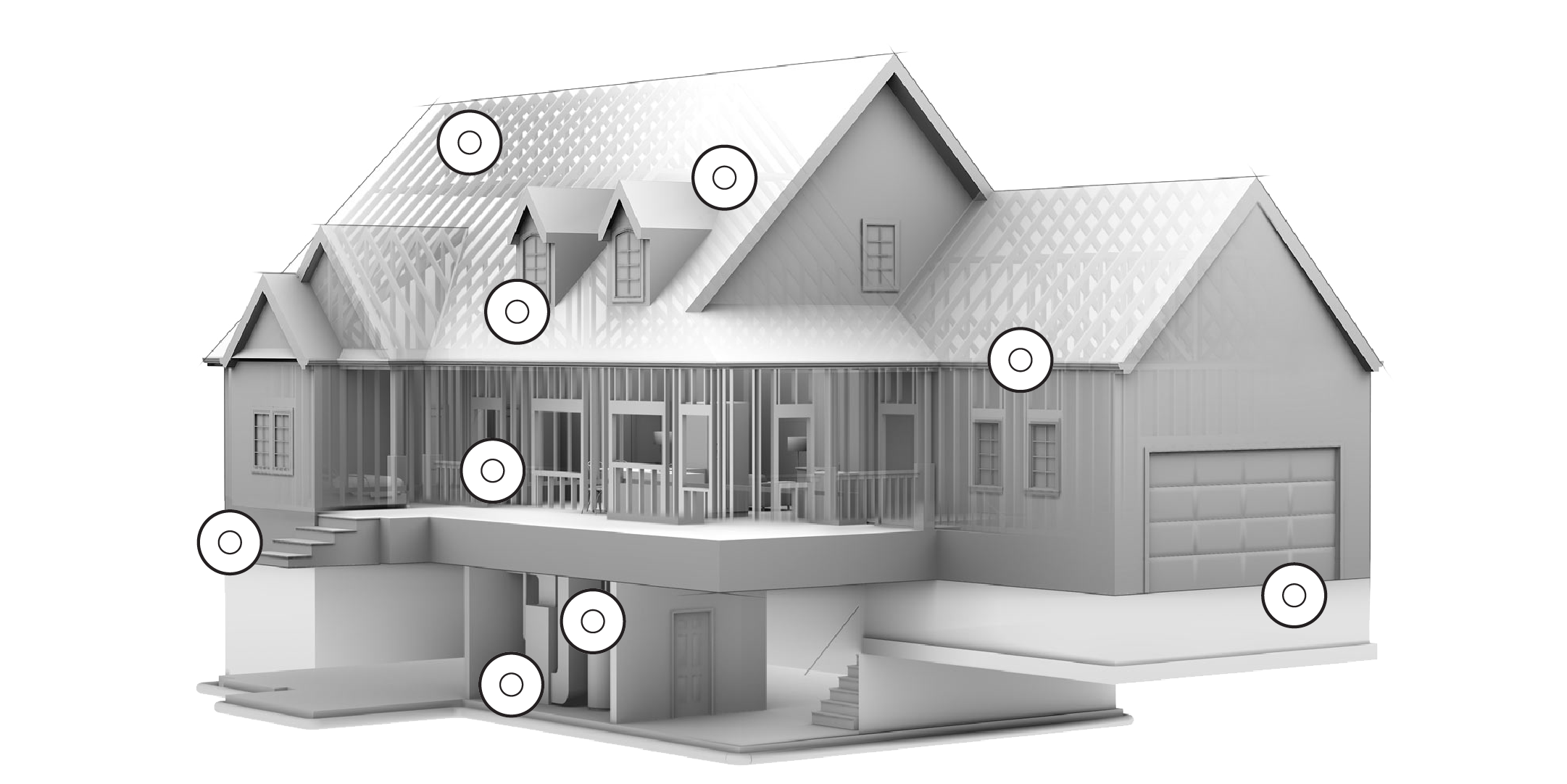 At Mike Holmes Inspections, we believe in bringing the highest quality and being completely transparent with our clients. We go above minimum code to conduct the most thorough home inspection you can get. Trusted by our clients, we strive to continue to make it right.
Sarnia, ON Franchise - Inspector Justin Walker

Justin was phenomenal. He explained everything extremely well, walked us through the entire process, and gave excellent recommendations. He helped us with our first home inspection, and we requested him for our second. We will be recommending him to everyone we know!

- Alexander Smith
Ottawa, ON Franchise - Inspector Nathan Boucher

I am very satisfied with Nathan Boucher report. He explained very well during the inspection. I will refer him to my friends and family.

- Anju Gupta
GTA, ON Franchise - Inspector Steve Blayney

Steve is very knowledgeable and friendly. His findings has provided me with a solid decision not to purchase that house. Looking forward to working with you again

-Diane Franchi
Ottawa, ON Franchise - Inspector Nathan Boucher

Our Home Inspector Nathan Boucher was exceptional! A true professional who was very focused and diligent throughout the entire process. He made sure to take the necessary time to fully understand our property and provided detailed notes every step of the way. Nathan was extremely friendly and easy to work with, especially during the summary portion where he made us feel extremely confident in our purchase decision, while also being very clear and honest regarding the advisable work that needs to be done. I can not recommend Nathan and Mike Holmes Inspections highly enough and will certainly be doing so to anyone who crosses my path. Thanks Nathan!

- Patrick Digby
Kitchener & Waterloo, ON Franchise - Inspectors Phil & Jackson Holmes

We were very happy with the inspection process- it was very thorough, Phil and Jackson were very patient and thoroughly answered all of our questions in a way that was easy to understand. We feel confident in their inspection and think we have a solid understanding and foundation to work off of in terms of what steps we are going to take next in addressing some of the the issues that we knew existed and ones we found out about through the inspection.They really covered all the bases and more and we will definitely be referring them in the future. We feel they went above and beyond what we were expecting and really appreciate how they conducted the inspection and their willingness to work with us.

- Emily
Halifax, NS Franchise - Inspector James Oja

James went above and beyond our expectations. He found all kinds of little things that we didn't see on site and put together a very thorough report explaining the deficiencies. I'll be keeping this team in mind moving forward.

- Justin Langlois
Halifax, NS Franchise - Inspector Lissa Gladu

Lissa was professional, thorough, an excellent communicator, patient with questions, punctual and provided excellent service. Her in-depth report was provided quickly.

- Tracey Jardine
London, ON Franchise - Inspector Kory MacDonald

Kory was a wonderful inspector. He is knowledgeable, personable, and experienced. I never felt like he was rushing to get through the inspection of my house. His explanations to me were thorough and detailed, and he was able to explain issues he found in a way that I could understand. He was lovely to work with and I trusted his opinions and recommendations. From booking the inspection to getting the final report, I had a great experience and am happy I went with Mike Holmes inspections.

-Ysabel
Orillia, ON Franchise - Inspector Dave Lobo

I wanted to email after spending the afternoon with Dave to inspect our potential home in Orillia.   I have never seen a home inspection that was so thorough or professional.  I learned more from this home inspection than I did watching my father finish project after project during my childhood.  Dave took the time to explain all of his concerns from start to finish, taught me what is and is not acceptable about each issue and why they were or weren't a cause for concern. I wanted to go into this project with both eyes open, and after this inspection I feel like we're taking on this project with x-ray vision.

Thank you so much for doing what you do, and I will definitely recommend your business to everyone I know, as well as call for your help in the future. Again, thank you

-Andrew