Home inspections for buyers
A Mike Holmes home inspection provides potential buyers with an accurate and unbiased third-party assessment of the condition of the house prior to making an offer. A home inspection (or a pre-purchase home inspection) is a thorough assessment of the major systems of your home, so you can make informed decisions about your new home.
About your home inspection
Homebuyers should expect quality and integrity in a home inspection and you will get it with a Mike Holmes Inspection. You can expect Mike Holmes inspectors to give you a thorough visual assessment of any home and help you make an informed decision. 
Your local Mike Holmes Inspector will inspect the major systems in your home and you will receive a thorough Mike Holmes Home Inspection Report.
About Your Local Home Inspector
Mike Holmes inspectors are highly skilled, trained inspectors working in the field, with many having an engineering or construction background. Improving the industry by providing a service that goes beyond the highest standards is what you should expect from a Mike Holmes inspection. But more importantly, it gives homebuyers peace of mind that comes from knowing skilled professionals who are committed to their work have inspected their home, using the best equipment.
Home buyers inspection packages
Mike's most popular home inspection includes Thermal imaging and Mold testing to help determine your home is safe and energy efficient by investigating air quality and air and water infiltration.
Mike's top to bottom inspection
The Mike holmes' inspection goes even further beyond the basics. Protect not only your family's safety but also their health by testing for Radon.


Mike's top to bottom inspection
The Mike Holmes Difference
When you get a Mike Holmes Inspection, you get a thorough visual examination and assessment that uncover defects and deficiencies in the home by our qualified, and knowledgeable inspectors. All Mike Holmes inspectors are certified thermographers, plus they work to my standards!
What To Expect From Your Mike Holmes Inspection:
Peace of mind and protection of your investment
Follow stringent protocols that go beyond industry standards
Attention to detail and experience help ensure that problems that could potentially cause extensive damage to your home are detected when possible
Experienced professionals that receive ongoing training and attend annual conferences required to keep up with the changes to regulations and advancements in technology
Inspection Packages and Services
Our most popular complete home inspection also includes Thermal Imaging looking for heat loss, assessing energy efficiency and looking for value even behind the walls.
The Mike Holmes' inspection that goes even further. Protect not only your family's safety but also their health by testing for any abnormal mould growth and radon levels in the home.
Booking your inspections is as easy as…1, 2, and 3
2. Review &
Recommendation
Our agents will review your
request and recommend a
service that meeds your needs.
3. Schedule, Pay
& Confirm
Quickly, we'll schedule a time
that works and send
a digital contract.
What's included in my home inspection?
With Mike Holmes Inspections you can expect a thorough assessment of total home health and performance that guides you to buy better, sell better or improve better. Our checklist includes a visual roof inspection with EyeStick®, a complete interior finish assessment, HVAC review (heating, cooling, and ventilation), electrical inspection, plumbing inspection, and a structural review from foundation to roofline. A Mike Holmes Inspection report, delivered within 48 hours, will provide you with a comprehensive document to make an informed decisions on your new, old or future home.
Inspection of the following is included:
Drafts Around Windows & Doors
Roof Shingles
Roof Flashing
Gutters & Downspouts
Driveway Inspection
Furnace Filter
Heat Recovery Ventilator (HRV)
Energy Recovery Ventilation (ERV)
Foundation Cracks
Deckboards & Ledger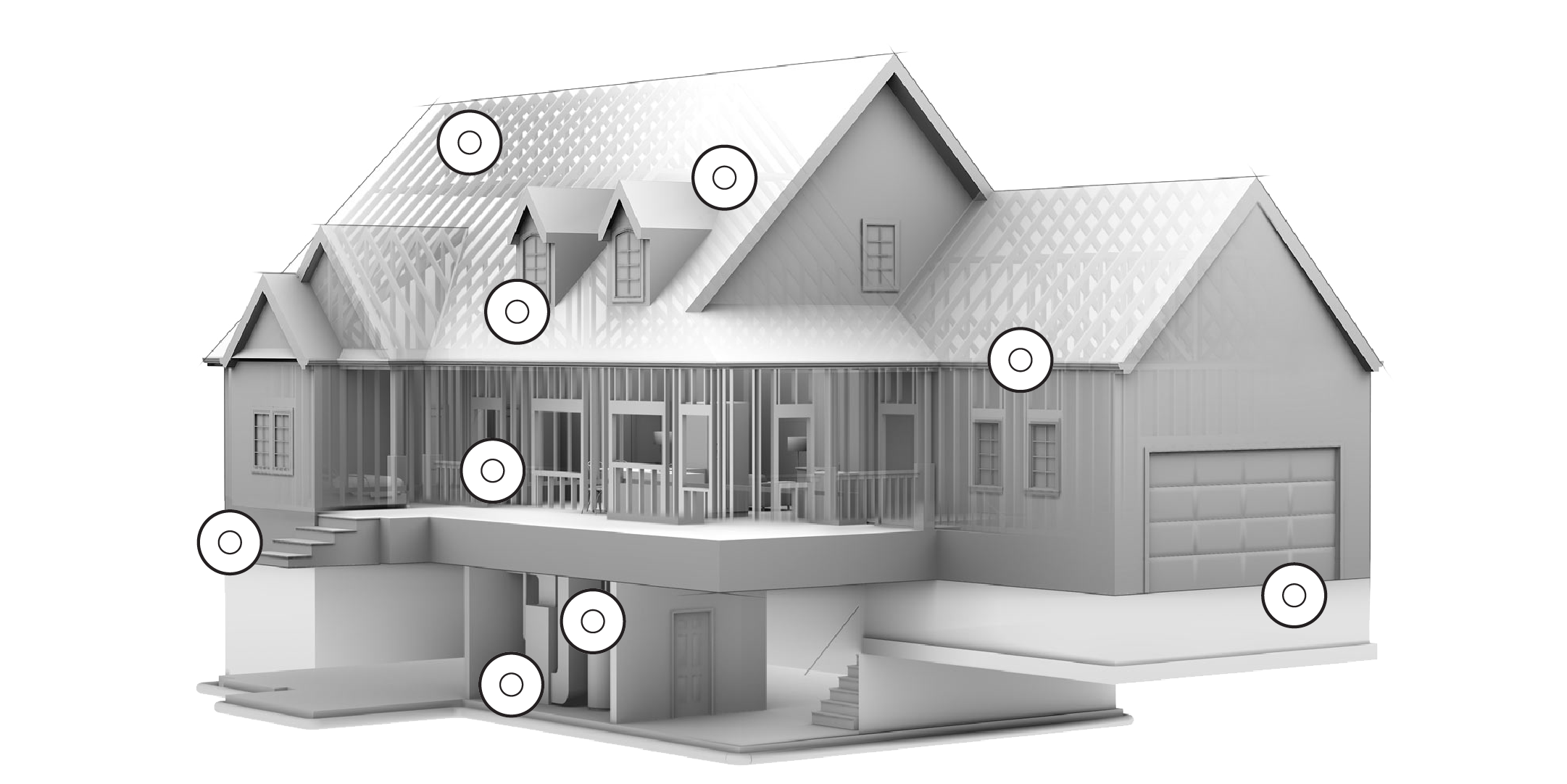 At MIKE HOLMES Inspections we believe in bringing the highest quality and being completely transparent with our clients. We go above minimum code to conduct the most comprehensive and thorough home inspection you can get. Trusted by our clients, we strive to continue to make it right.
I wanted to email after spending the afternoon with Dave to inspect our potential home in Orillia.   I have never seen a home inspection that was so thorough or professional.  I learned more from this home inspection than I did watching my father finish project after project during my childhood.  Dave took the time to explain all of his concerns from start to finish, taught me what is and is not acceptable about each issue and why they were or weren't a cause for concern. I wanted to go into this project with both eyes open, and after this inspection I feel like we're taking on this project with x-ray vision.

Thank you so much for doing what you do, and I will definitely recommend your business to everyone I know, as well as call for your help in the future. Again, thank you
Andrew