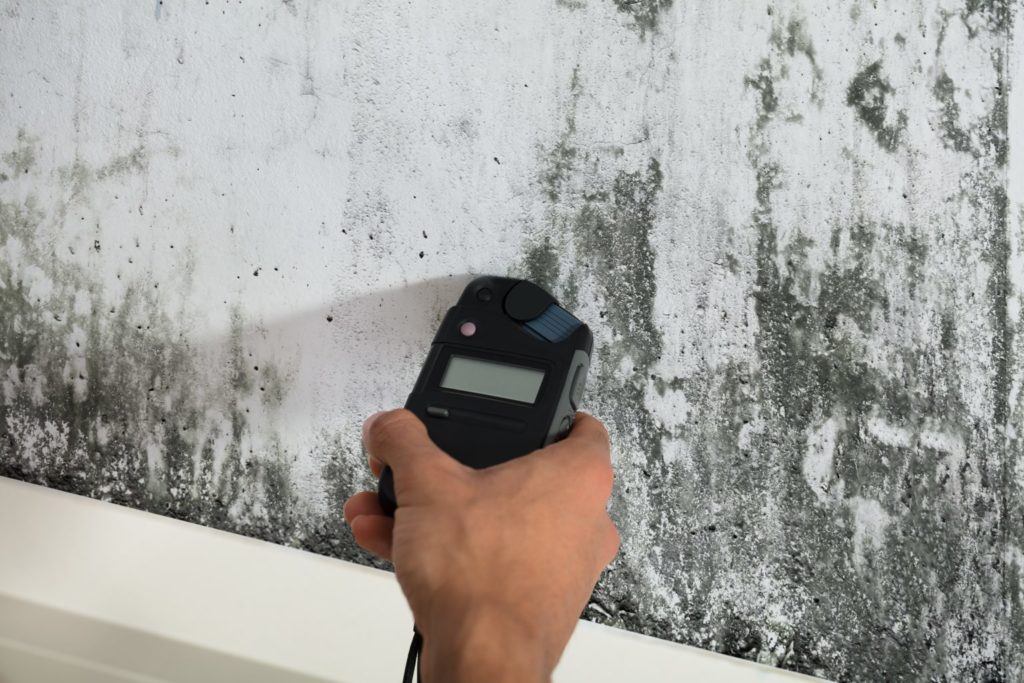 Worried about mold in your house? Mike Holmes Inspectors use a moisture meter and infrared camera to check areas of concern for possible moisture infiltration. Testing for mold overgrowth is important as mold triggers respiratory ailments such as hay fever, nasal allergies and asthma, as well as rashes and eczema when it touches the skin.  And if ingested, significant concentrations of toxic bacteria can cause abdominal cramping, diarrhea and fever. Our Premium Home Inspection package includes mold testing.
Every home has some mold producing mycotoxins and allergens– it's natural. Some mold can produce toxins that can affect our health along with other issues like asthma, eczema, nasal allergies, and even abdominal cramping. You need to make sure that the mold spore count in your home is low, typically less than outdoor counts and also tackle any issues that may cause growth. Mold will thrive in the right conditions – where there's air, moisture, and a food source. Materials in your home such as wood, drywall and carpeting, are perfect targets for mold growth. 
So how do you solve the problems with mold growth?
Start by removing the excess moisture and humidity from your home with proper ventilation, especially in traditionally damp areas like the basement, bathrooms, kitchen and laundry room. Running a dehumidifier and ensuring the HRV or ERV are operating correctly and the filters are clean as well as keeping humidity levels between 35% and 45% is a good starting point.
Also check the building envelope. Are there cracks in the foundation? Is there rotted framing around windows? Is there an issue with a leaky roof? These are all conditions that could cause mold growth.
Mold Testing by Mike holmes inspections
So you notice a musty smell in your basement but can't see any signs of mold. Mold can be invisible to the untrained eye. If you suspect mold in your home, it's best to call in the pros to check for possible moisture issues around your home, and to do an Air Quality (IAQ) assessment. During the assessment, the inspector will go through your entire home and check for indoor air quality risks. They can also take air samples to be analyzed at a certified lab, which will give you a full report with results, including the types of mold and spore count. So if you suspect a mold issue in your home, be smart and get your home inspected.
Helps in preventing serious symptoms from mold exposure
Helps improve indoor air quality
Helps reduce the risk of structural damage to your home
I started Mike Holmes Inspection because I wanted homeowners to have an inspection done by my standards. I wanted a team of professionals to give you the right advice the first time, like when to buy the home and why you should buy the home, and how to maintain your home. I want homeowners to buy it right!
Inspection Packages and Services
Specialty and add on services
Breathe Easy with Specialty or Add-on services that can be added to your Mike Holmes Inspection package, including screening for radon gas, testing for mold, or Indoor Air Quality readings for your family health & peace of mind.
Not all Specialty & Add-on services are available in all areas, please contact us at 1-888-563-5699 for more information.