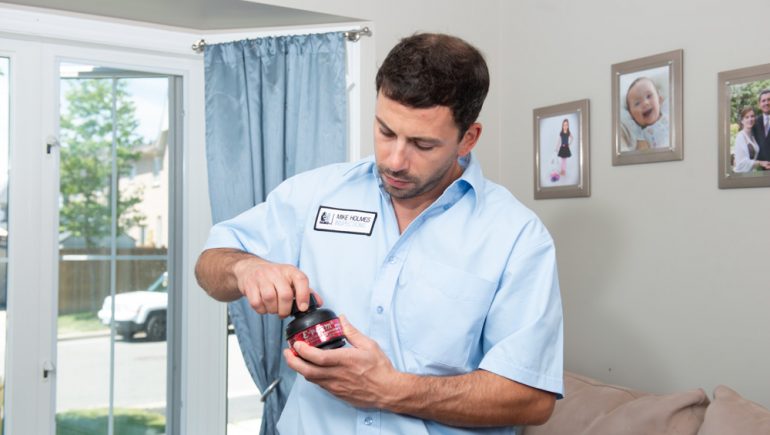 According to Health Canada, radon is the leading cause of lung cancer among non-smokers. In fact, it is responsible for 17% of all lung cancer deaths in Canada each year, exceeding that of asbestos.
Our home Inspectors are fully trained professionals to conduct a radon test in accordance to Health Canada Guidelines for a 91 day (long term test). Please note radon testing is included with a
Premium Home Inspection
.
The problem with radon is that it is an odourless and invisible gas. The only way to know if a home contains dangerous levels of radon is to test for it. What might surprise you is the fact that one house can have radon levels next to zero while the house next door can have levels that are off the charts. The levels of Radon do tend to fluctuate depending on the weather, humidity, the home's construction and the time of year.

For example, winter is the best time to test for radon because windows and doors tend to be kept shut during most of the season, which allows any toxins in the home to build up. This provides a good reading on indoor air quality and radon levels a household is exposed to.

Homeowners are encouraged to test for radon, and book a radon test with one of our trained home inspectors in order to ensure accurate test results.
Short-Term and Long-Term Testing
There are two types of tests: a short-term test and a long-term test. A short-term tester is placed in the lower level of the home, a basement for example, for 3 days. Then the tester is picked up by the inspector and sent to the lab for analysis. Test results are back within 3 -5 days and are sent to you electronically. Getting a short-term radon test is a quick way to screen a home for radon – the test will highlight whether further investigation or mitigation is required.
Benefits of Radon Testing:
Remediation is easy and cost efficient
Concentrated levels of radon over an extended period of time is the second leading cause of lung cancer, next to smoking
I started Mike Holmes Inspection because I wanted homeowners to have an inspection done by my standards. I wanted a team of professionals to give you the right advice the first time, like when to buy the home and why you should buy the home, and how to maintain your home. I want homeowners to buy it right!
Inspection Packages and Services
Specialty and add on services
Breathe Easy with Specialty or Add-on services that can be added to your Mike Holmes Inspection package, including screening for radon gas, testing for mold, or Indoor Air Quality readings for your family health & peace of mind.
Not all Specialty & Add-on services are available in all areas, please contact us at 1-888-563-5699 for more information.